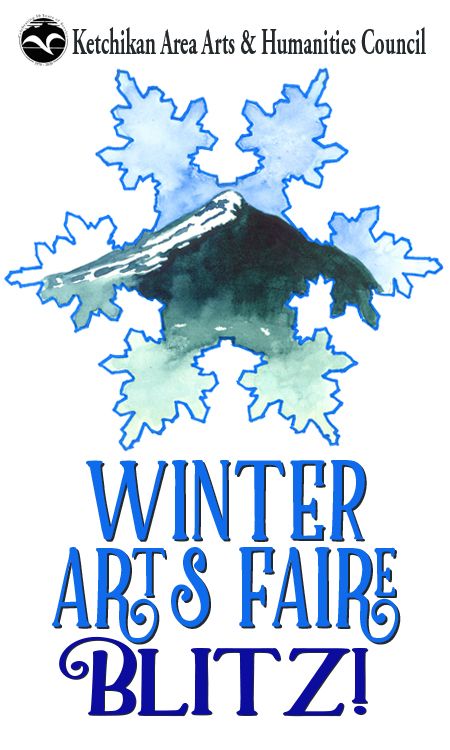 "Will there be a Winter Arts Faire this year?" – you ask…  well, YES there will be. But, like so many things this year, it will look a little bit different! 
This year because there are no venues available to safely accommodate the almost 4000 people that participate in the Winter Arts Faire, we have decided to BLOW it UP!  Picture a BLITZ of winter wonderfulness spread ACROSS THE TOWN!! That's right. We will showcase a listing of all the artists and what they are doing from November 27 – December 31st on our website for you to peruse and choose whether to purchase their work online, or see where to find them for in-person shopping! The Winter Arts Blitz will begin on Friday, November 27th at 9:00 am and we will continue to post, support, promote, and update all of your favorite Ketchikan area artists throughout the month of December!!! Your one-stop site for accessing art! A complete Gallery of all the participating Artists and where they will be located and when will be on the front page of our website!
But wait that's not all!!! 
We are partnering with the Chamber of Commerce in a community-wide event, "Merry Merchants and Munch" and Providence Properties "Small Business Selfie Sweepstakes" to encourage a shop small, buy local incentive program that will give prizes to people that spend money at registered local merchants. Each $100 spent gives you a chance to win a ton of fun prizes from the Chamber!!! Each selfie you submit with #shopktn2020 gives you a chance to win fun prizes from Providence Properties!! Each participating artist or business will have participation posters! Get your "Merry Merchants and Munch" punch cards at participating artists and merchants around town! A full list will be on the Chambers page and in the Daily News.
Get everything on your gift list LOCALLY while supporting artists and small businesses in your community.
Don't miss out on this Wonderful new way to support local artisans!
If you have any questions about the Winter Arts Blitz please contact the Arts Council by calling 907.225.2211 or via email at info@ketchikanarts.org.
---