Artist Professional Development Series!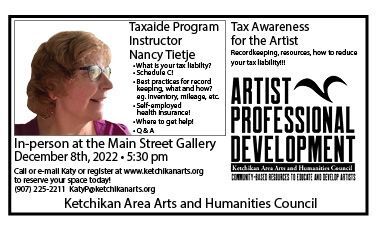 Taxaide Program Instructor, Nancy Tietje shares her tax knowledge with artists just in time for end of year book keeping! This in-person, one hourish workshop will focus on record keeping, resources, and what to be aware of.  
Topics will be: 
What is your tax liability?  
Best practices for record keeping, including what to keep track of and ideas on how.
Other items to consider to lower your tax liability.
Extra credit given to all those who bring in their own Schedule C find it at https://www.irs.gov
Schedule C will be available at the class.
5:30 - 6:30 in person at the Main Street Gallery, 330 Main Street, Ketchikan, Alaska
Class size is limited. Register NOW!!!