Open Call - Prince of Wales Island Wide Arts Extravaganza Exhibt entry form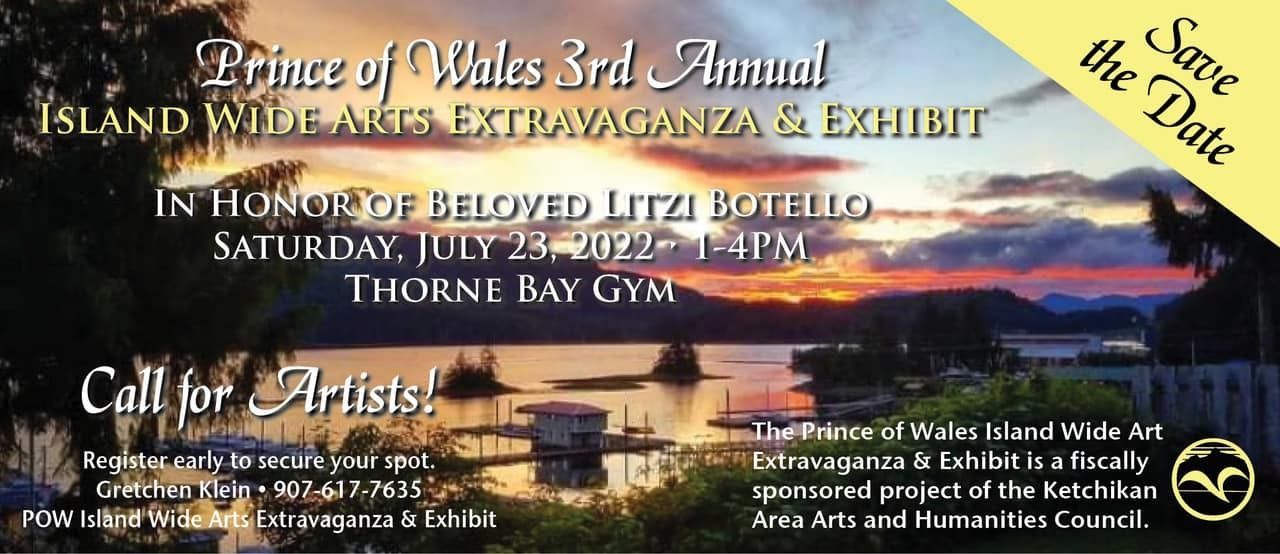 Open Call to Artists for the Prince of Wales Island Wide Arts Extravaganza & Exhibit Event
Saturday, July 23rd 2022 at the Thorne Bay School Gym
Submit Exhibit registration by July15th 2022.
We invite YOU to be a part of the 3rd exhibit July 23rd 2022. It is open to artist on Prince of Wales. Due to space restrictions we must limit it to 100 artists. The Art Extravaganza will take all necessary steps for this large, indoor event to mitigate the risks to artists and audience members of the Covid-19 disease, potentially including requiring mask wearing, limiting capacity, traffic flow patterns, and spacing.
ELIGIBILITY: Submissions must be original, creative, one of a kind artwork and made by artist on Prince of Wales island. All artwork must be designed and executed by the exhibiting artist; collaborative pieces may be submitted. Art will require artist signature, and would be returned.
ENTRY FEES: $25.00 PAYABLE: KAAHC/POW Arts Extravaganza & Exhibit
Ketchikan Area Arts and Humanities Council
330 Main Street
Ketchikan, AK 99901
ENTRY DEADLINE: All art must be received to Gretchen Klein by Friday, July 22nd 2022 at Thorne Bay School District Gym Art Exhibit location.
NUMBER OF ENTRIES: Artists may submit up to two entries. Bring businesses cards to pass out.
SALES: Art may be priced to sell, artist is responsible for transaction with seller as well as organizing transport or pick up after 5:00 pm on day of event. It is not recommended to release artwork to buyer without payment.
OPENING RECEPTION: Artists are encouraged to attend the reception 1PM-4PM Saturday, July 23rd 2022 at the Thorne Bay School Gym.
ARTWORK RETURNS AND PICK-UP: Local artists can pick up their work starting at 5:00pm on Saturday, July 23rd 2022.
INSURANCE: Artists are responsible for insuring their work during transit to and from the Art Show. Your work will be treated with respect and care. The KAAHC is not responsible for damage due to circumstances beyond reasonable control.
Please see link below for a download-able entry form.