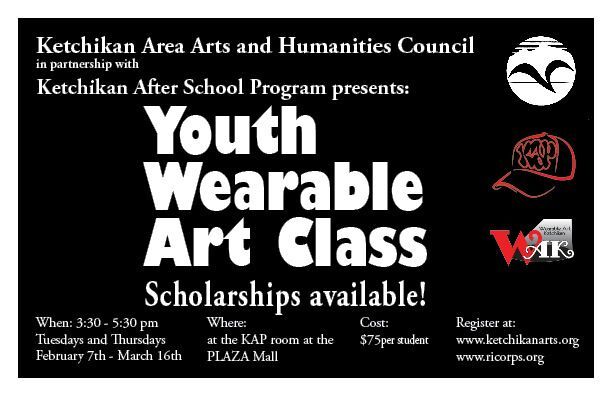 The Youth Wearable Art Class has TWO more spots left!!!!
We created this class in collaboration with the Ketchikan After School Program to provide the space and the mentors for youth artists to create and practice Youth Wearable Art pieces to be worn (but not required) at the Youth Wearable Art Show March 25th! We are so excited to welcome The ARTery's amazing art teacher Abel Piercy as the instructor for the Youth Wearable Art Class! 
Class Schedule:
Tuesdays and Thursdays beginning February 7th, through March 16th
3:30 to 5:30 pm!

Classes will be held in the KAP facility upstairs at the Plaza Mall. Students will be able to leave their work and materials there throughout the duration of the class while they work on their pieces.
Youth Wearable Art Show:
Dress Rehearsal March 24th, KayHi Auditorium
Youth Wearable Art Show March 25th, Kayhi Auditorium
Questions?
Please call the Ketchikan Area Arts and Humanities Council at 907-225-2211 or email kathleenl@ketchikanarts.org
Register below!