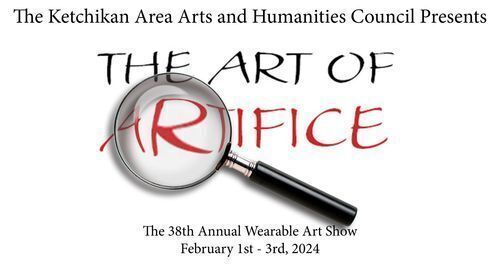 Artist Application for "Art of Artifice" the 38th Annual Wearable Art Show
DEADLINE to submit your application is Tuesday, January 9, 2024!!! Call with questions! 907-225-2211
This application is for ages 14 - Adult
The Ketchikan Area Arts and Humanities Council began the Wearable Art Show in 1986. It has since become one of Ketchikan's favorite events and is copied in communities across Alaska and in Washington. The Wearable Art Show focuses on one-of-a-kind, handcrafted artwork designed to be worn by the human body. Artists of all media are invited to create functional - and not so functional - pieces of WEARABLE ART. Yay!!!!!!!!!!!!!!!!!
We are lucky to have highly efficient, creative, and insightful leadership for the development of this event in the form of the Wearable Art Show Committee. This committee is possibly the best committee in the history of the universe and we are very, very lucky to benefit from their knowledge, energy, and commitment to Wearable Art!!!! If you are interested in being on the Wearable Art Show Committee - please contact KAAHC!!!  907-225-2211
The 2024 Wearable Art Show Committee includes:
Rhonda Green, co-chair
Vicki O'Brien, co chair
Jan Joregenson
Anna Peebles, volunteer coordinator
Kathleen Light
Nate Edwards IV
Volunteers!!!
As always, we will need volunteers to help with setting up and tearing down each performance. If you know someone who is able to help, please have them call KAAHC at 907-225-2211
Reminder!
The Youth Wearable Art Show is for artists, models and school groups ages 13 and younger. However! individual artists 14 to 18 can perform in the youth performance, the adult performance, or both! The Youth Wearable Art Show committee is excited for the third annual event. If you would like to help design the youth performance please let us know!!!! The Youth Wearable Art Show will be March 23rd, 2024 at Kayhi at 7pm, with a dress rehearsal on the 22nd.
The Details!!!
Performances for artists and models 14 and older, February 1st, 2nd, and 3rd, and two performances on February 3rd, 2024. All submitted Wearable Art Show pieces must be performed in all 4 shows.

Deadline to submit applications to participate in the February show - January 9th, 2024 (youth performance will be a separate call and application)

There is a Mandatory Meeting for Artists on Wednesday, January 10th, 2024 at 5:30 pm (It will be in person at the Main Street Gallery. You may request to attend the meeting via ZOOM. Call us if you can't make this meeting! 907-225-2211)

The dress rehearsal will be Wednesday, January 31st, 2024 This is REQUIRED. All pieces must be finished for the dress rehearsal, no matter what. This will be the best opportunity for artists to see and appreciate each others' work up on the runway. Please note, we will open the dress rehearsal to volunteers as a way to thank all of the wonderful amazing people that help throughout the wearable art show production. This is not to say you cannot use the dress rehearsal to understand how your piece will move on the catwalk, or how your movements can best showoff your piece. It will still be a rehearsal, but you will very likely will have an audience. Please be aware, KAAHC and the Wearable Committee will evaluate the line up at the Dress Rehearsal to be sure we are creating the best performance experience for the audience. If we have not placed all pieces in the most artistically powerful order, we will adjust the lineup after the Dress Rehearsal, and notify models and artists that evening.

Artists should purchase their tickets now. All participating artists will be refunded one purchased ticket at a $45 value.
Rules of the Road!
Below is a basic list of guidelines, however, you may download this list of guidelines, your Model Release Form, and body outline to sketch your piece on. CLICK HERE
The Wearable Art Show showcases artwork, made by hand, that is designed to be worn on the human body.

Entry is FREE for KAAHC ARTIST members! If you are not an Artist member of the Arts and Humanities Council, the entry fee is $75 per artist. If you would like to become a member - or update your membership - you will be able to do that at the end of the registration form and we will love you forever.

Each Individual Artist may submit up to two entries. Entries can include up to six models.

Wearable Art must be handmade from "scratch." No ready-made costumes or street clothes will be accepted.

We will have 2 Wearable Art Show Model Workshops they will take place at The Plaza, Wednesday, January 17th and the 24th, from 5:30pm until 7:00pm 

First-time Wearable artists must attend both model workshops!

Provide music for your performance that is no longer than 2 minutes. If the music you provided is longer than two minutes and has no timing indications, your application will be considered incomplete.

Artists must provide their own model for all performances. Models cannot appear in more than two pieces. If you need help finding models call us!

A photographer will document the event for KAAHC. It is the artist's responsibility to inform models that photos may be used in publicizing the Wearable Art Show and KAAHC. Models will be required to sign a release form. (click to download the model release form)

The Dress Rehearsal is mandatory for all artists and models. Models must wear the entire Wearable Art piece or have it ready to show the committee. We will have an audience of Wearable Art Show volunteers at the Dress Rehearsal

If you have ADA mobility challenges please let us know so we can make accommodations and your experience joyful and rewarding!

KAAHC reserves the right to exclude work that is incomplete or inappropriate.

KAAHC reserves the right to alter the lineup after the Dress Rehearsal to better serve the performance.

You must submit up to 3 images of your piece through this form!

You must submit your music of 2 minutes or less via thumb drive or e-mail to the Arts and Humanities Council office. You must own the music and it must be in an MP3 or MP4 format. (No shared Apple links!)
---
Important dates
Tuesday, January 9, 2024, by 6:30pm
ARTIST APPLICATIONS must be received - Please include Model Release Forms, Music, and images. Main Street Gallery, 330 Main Street, Ketchikan, AK  907-225-2211 programs@ketchikanarts.org
Wednesday, January 10, 2024, 5:30pm in person ZOOM available upon request.
MANDATORY MEETING FOR ALL ARTISTS (Not required for models to attend unless they want to!) If you can't make the meeting call us! (907-225-2211) If your piece is being created by a group of artists - one artist can attend the meeting and relay the information to the other artists.
Wednesday, January 17 & 24, 2024, at 5:30pm
MODEL WORKSHOPS Are available to all artists and models to partake. First timers must attend both workshops! The model workshops will be led by experts in movement and expression and will provide models an opportunity to practice moving in a Wearable Art piece.
Wednesday, January 31, 2024, at 6pm
MANDATORY DRESS REHEARSAL, Ted Ferry Civic Center. The dress rehearsal will be open to Wearable volunteers to attend. Models are required to wear the entire Wearable Art piece.
February 1, 2 and 3 at 8pm
EVENING PERFORMANCES, Ted Ferry Civic Center
February 3, at 2pm
MATINEE PERFORMANCE, Ted Ferry Civic Center
February 9, at 5-7pm
PARTY, Artist and Model After Party!!!! Main Street Gallery (Not required, but we would be honored to feed you and tell you how amazing you truly are!!!)