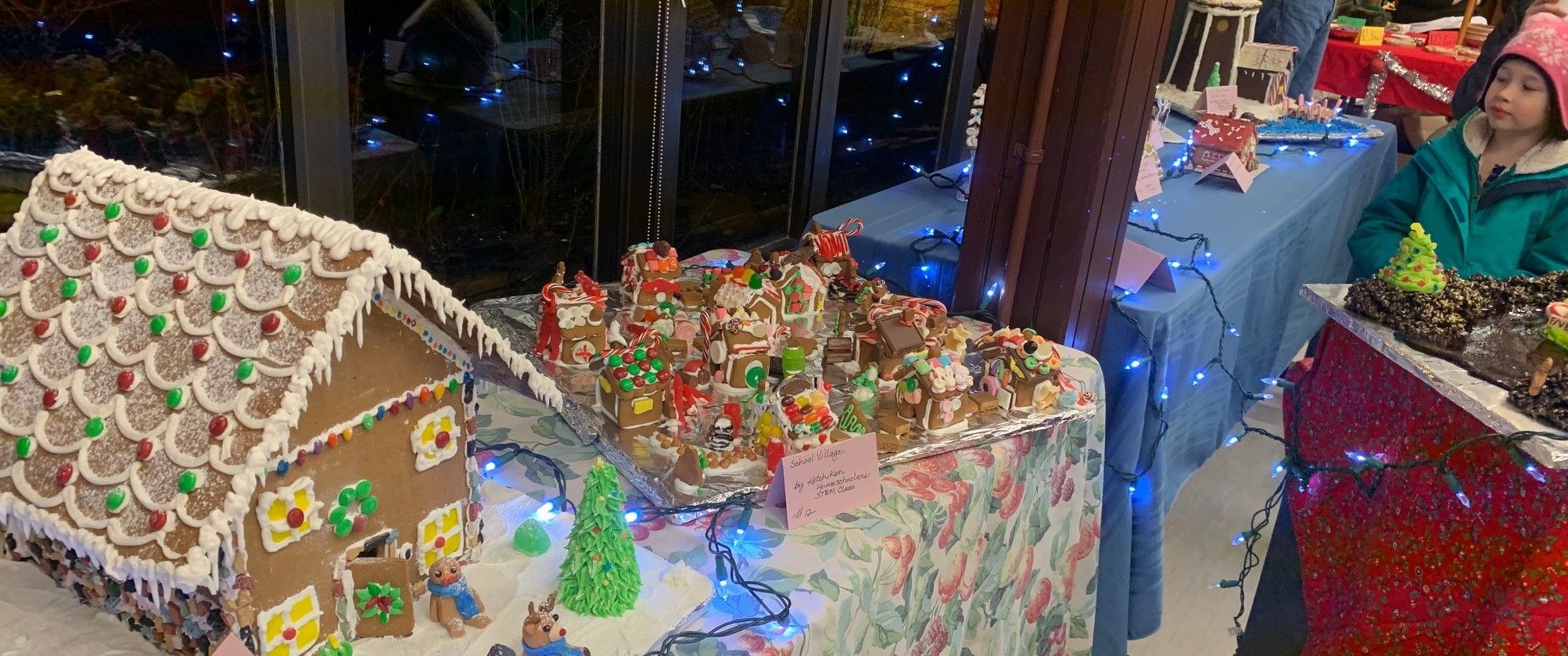 I barely noticed the temperature of the night once the Winter Art Walk started. I began the evening at the Main Street Gallery's opening of Youth in Art, an exhibit that showcases youth of all ages, in all kinds of media. One of my favorite pieces was a book made by fourth grader Ike Pennino, who wrote and illustrated a book of animal facts. I had absolutely no idea that kiwi birds had their nostrils at the ends of their beaks! Another piece I truly enjoyed in the exhibit was an acrylic painting by Tyler Merle, depicting a dapperly dressed man with the head of a raven. There was a tremendous reception from the community for the exhibit, with an incredible amount of people visiting throughout the night. I had managed to witness a patron purchase one of the pieces from the exhibit! It was a great experience.
Moving to Creek Street, I went to Soho Coho since I'm a bit partial to Grace Freeman's work, having commissioned her a while back for a fandom-related illustration. Along the way, I stopped at the Tongass Historical Museum to see the results of Peace Health's Third Annual  Gingerbread House Competition. I was thoroughly impressed with what had been built over the course of a couple days. Numerous votes were put in for the winner of the People's Choice Award, including one from myself.
As the evening progressed, more and more people came out to stroll through downtown, leaving me to run into more than a handful of people I recognized. Heading into Parnassus Books, I previewed their featured book, 'You Are Home With Me' illustrated by Sarah Asper-Smith. It's the second book by her and her husband, the first being 'I Would Tuck You In', and both are lovingly written and beautifully artistic from page to page, creating a wonderful picture book.
After leaving there, I visited Niblick's General Store, the Inn at Creek Street/Bayside Hotel, and ended up at the New York Hotel's lobby where I managed to be just in time to get some of Chelsea's Magical Macs to take home. She featured an array of flavors in her homemade macarons: eggnog, cranberry-ginger cheesecake, peppermint bark, and mulled cider. They made a great appetizer for my dinner next door at the New York Cafe, including the soup of the day (Tomato Bisque Florentine) enjoyed with live music by Dave, Hannah, and Chazz. It was an absolutely perfect ending to a night of touring handmade goods and beautiful artwork throughout the downtown area.
The Winter Art Walk a fantastic way to spend the evening, shopping at different local businesses with local artists' work on display, enjoying the holiday festivities, and having a good meal with good friends. This is a must to attend during Winter in Ketchikan!
- K-Town's Roving Art Observer