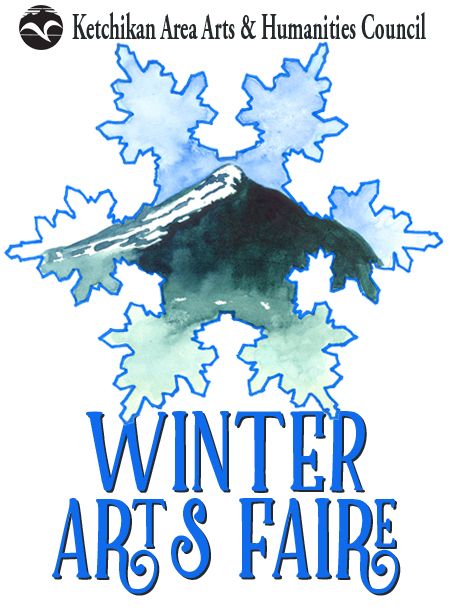 The Ketchikan Area Arts and Humanities Council has been putting on the Winter Arts Faire annually for 30 years!  The Winter Arts Faire is always the weekend after Thanksgiving! It is a Faire for artisans to meet and sell their wares, a family-friendly Faire, where parents can check off their entire gift list with new creations from over 80 local artisans while their children make art in the other room or visit with Santa!  (Children under 7 should not be left alone) There is everything from wreaths to pottery, jewelry to photography, tie-dye to metalwork.
The Winter Arts Faire begins on Friday, evening with the Opening Gala Reception. Held from 5:00 - 8:00 pm.  An opportunity for adults to shop without their kids, while enjoying a special hors d'oeuvre and mocktail drink menu. This Gala Event has a $5 entry fee.  Come for an elegant evening out and get all your holiday shopping done. Booths are open for sales from 5:00 -8:00 pm!!!. 
Enjoy the Winter Arts Faire Art Booths and Food Vendors on Saturday, and Sunday, with free admission. What most people like to do is come on Saturday with the family to make a list and come back on Sunday to make their purchases. Be careful with this strategy vendors can sell out!
Wearable Art Show tickets for the general public go on sale the Saturday, of the Winter Arts Faire at 10:00, am at the Arts Council's booth!!! They sell out fast!!!
There are fun crafts for kids, visits from Santa, live music and much, much more! Don't miss out on this wonderful Ketchikan Tradition!
If you have any questions about the Winter Arts Faire please contact Katy by calling 907.225.2211 or via email at KatyP@ketchikanarts.org.
---
30th Annual Winter Arts Faire

---
A special Thank You to our Sponsors