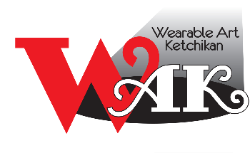 ---
"Mixed-Up!"
The 35th Annual Wearable Art Show 
Our Wearable Art Committee has been working non-stop since early May to plan and figure how to bring the 35th Annual Wearable Art Show "Mixed -Up!" to our community like no other Wearable Art Show has been done in the past!!!! We are super excited to be collaborating with KPU to bring a special feature-length "Mixed Up!" Wearable Art Show Pay-Per view movie. Check back regularly for updates and crucial information on how to purchase tickets to this and other Wearable Art Show performances!
Are you an artist wanting to participate?
The Wearable Art Show individual artist application is available NOW! Click Here to apply.
 
KETCHIKAN – THE ORIGINAL WEARABLE ART SHOW!
The Ketchikan Area Arts and Humanities Council began the Wearable Art Show in 1986. It has since become one of Ketchikan's favorite events and is copied in communities across Alaska and in Washington. The Wearable Art Show features one-of-a-kind, handcrafted artwork designed to be worn by the human body. Ketchikan's Wearable Art Show is the original runway performance that has become a state- and world-wide phenomenon! Artists in the Ketchikan community and beyond create original wearable wonders out of duct tape, foam, sequins, trash bags, wood, milk jugs…you get the idea… and LOTS of glue! Normally a spectacular runway show, this year, The Wearable Art Show will look different. It will be offered (allowing Covid restrictions) at many smaller venues, a Pay-Per View Movie, a drive-in, and maybe even a fun run!!! It is more important than ever to continue the tradition of the Wearable Art Show. That is why the Wearable Art Show Committee has been meeting since early May, and we are really excited about some of the fun, creative ways we have come up with to bring the 35th Annual Wearable Art Show "Mixed-Up!" to our community. Artists of all media are invited to create functional - and not so functional - pieces of WEARABLE ART.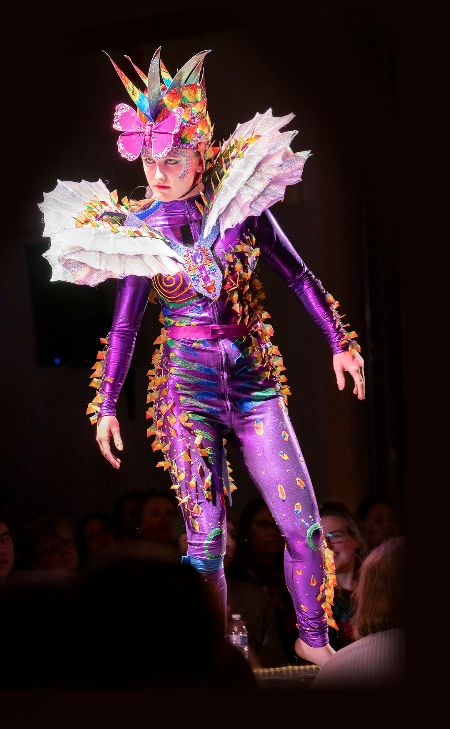 "Sweet Dreams": Artist/Model Ruby McCue Photo: Felix Alexander Wong
Please help us in thanking our newest Wearable Art Show sponsor, Alaska Airlines!!!!