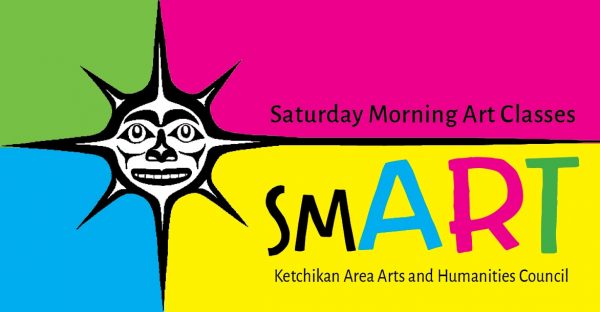 Get smART with ART – Saturday Morning Art Classes!
New this season! More classes offered in three week sessions, 
PLUS classes extended to include Grades 1 through 12!

smART classes nurture and inspire interest in a variety of media, techniques, and cultural awareness. Get back to basics this season with drawing techniques and printmaking. Step into the future with digital media featuring stop-motion animation and iPad illustration.
smART Class times:
9:00 am to 11:00 am – Grades 1 – 4
11:30 am to 1:30 am – Grades 5 – 8
NEW! 2:00 pm to 4:00 pm – Grades 9 – 12
Stop-Motion Animation
October 7, 14, 21, 2017 – $75.00
Using simple software and a digital camera students will learn the basics of stop-motion animation, and work together to create short films developing story, sets, and characters.

Drawing & Portraiture
January 6, 13, 20, 2018 – $75.00
To celebrate the January Youth in Art MSG exhibit, this class will be held in the upstairs gallery surrounded by art created by Ketchikan's youth. Students with submitted artwork in the show will receive a discount on the drawing session. Join artist Grace Freeman and learn portraiture and drawing basics.
Digital Illustration 
March 12, 13, 14, 2018 – $75.00
Artist Matt Hamilton will teach the basics of digital art, drawing, and image manipulation using iPad tablets for this Spring Break session. Students will learn about scanning drawn images, Fair Use, stencil making, and original work. iPads will be provided for use in class.

Printmaking
April: 7, 14, 21, 2018 $75.00
Explore the basics of block printing and linocut.
Students will learn how to use tools, choose images and make high contrast designs for print. Students will create a t-shirt with their printed image!

Registration is now open! Call the Arts Council  225-2211

All classes held in the Main Street Classroom.
smART classes are limited to 12 students per age group, so reserve a space early! Discounts available for Family Season Benefits Card holders and siblings: Financial assistance may be available through Love in Action and for qualified KIC families.
---
Past smART sessions:
SPRING SESSION- MARCH/APRIL 2017
"These are the People in your Neighborhood" – This season we are exploring diversity in our community, and we continue that exploration with our spring session. Our instructor will collaborate with guest artists from the communities within our community, to celebrate global art and the diversity that makes Ketchikan great.
FALL SESSION- OCTOBER/NOVEMBER 2016
The celebration of our Fall session was a performance of "The Girl Taken by the Star People". Students performed it for their parents. The kids sang traditional Tsimshian and Haida songs and told the story through movement, dialog, and regalia.
Facebook video can't be added. Host on Youtube/Vimeo.