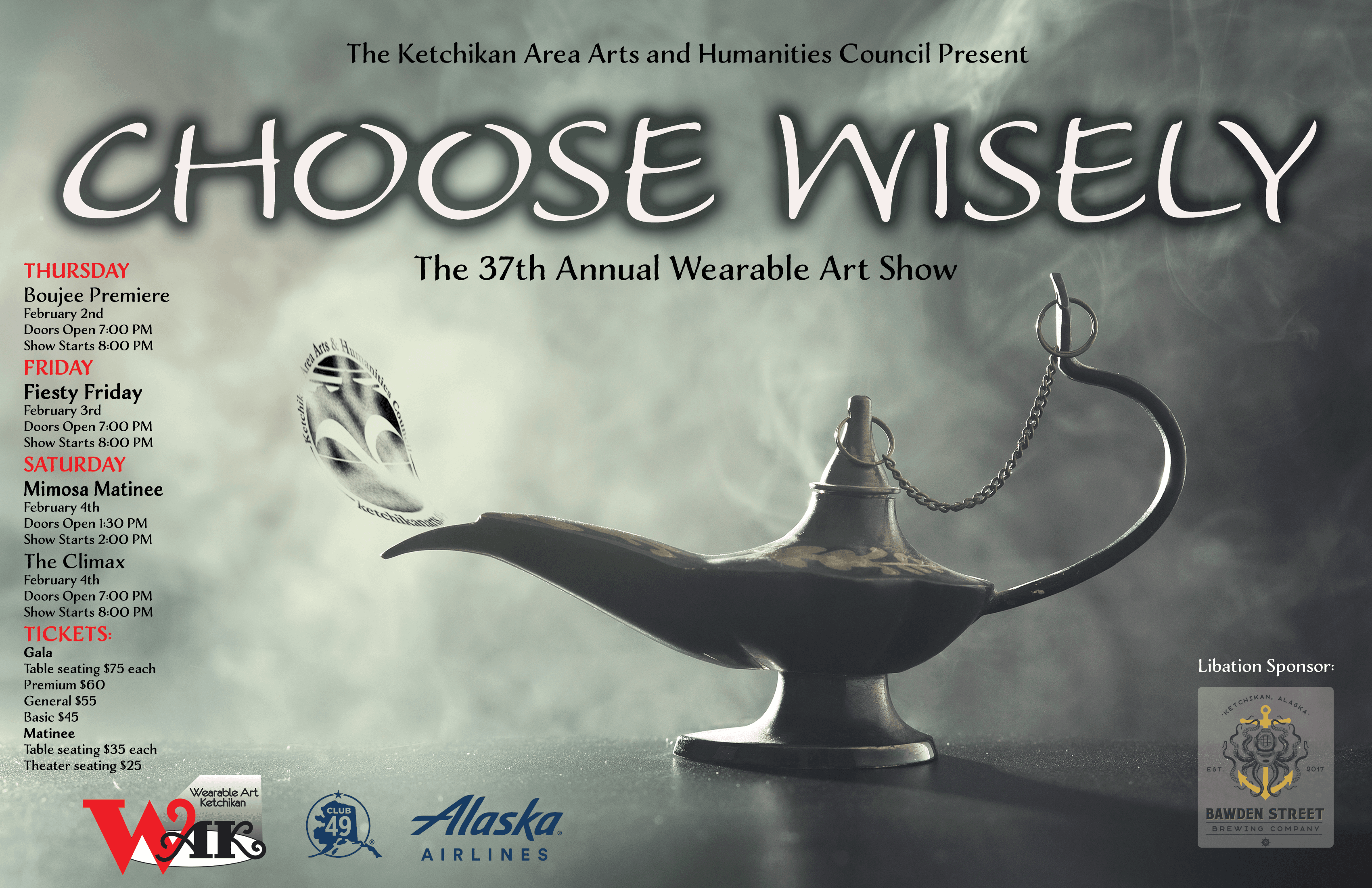 Wearable Art Ketchikan!
The Ketchikan Area Arts and Humanities Council (KAAHC) began the Wearable Art Show in 1986 at the old black box theater in the Red Men building. 6 pieces were worn and paraded around the audience. It was so successful, they went around twice! Those original artists included Diane Palmer, Ray Troll, and Halli Kenoyer. The Wearable Art Show has since become one of Ketchikan's favorite events inspiring exciting, artful expression when Ketchikan needs it most. Since its beginning, the Wearable Art Show has been copied in communities across Alaska and in Washington. Always the weekend of the first Saturday in February, the Wearable Art Show has become KAAHC's largest fundraiser. 
For many years WAK has encouraged and included individual youth artists, youth models, and school groups to participate in the Wearable Art Show. The Saturday matinee has become a favorite performance for the entire community. Youth participation and involvement have expanded so much the Wearable Art Show Committee has created the first-ever, all youth Wearable Art Show! When KAAHC and the Wearable Art Show Committee started planning for "Under Construction" the 36th Annual Wearable Art Show it became clear that this was the perfect year to debut the "First Annual Youth Wearable Art Show" 
Youth Wearable Art Ketchikan (YWAK) has its own wonderful committee and is evolving to be an opportunity for individual youth and youth groups, to participate in all aspects of Wearable Art!!! Opportunities for youth musicians, youth public speakers, youth models, youth dancers, youth opening acts, and youth volunteers. Watch for more info about the 2023 Youth Wearable Art Show coming soon!!!