The 48th Annual Blueberry Arts Festival BOOTH Applications!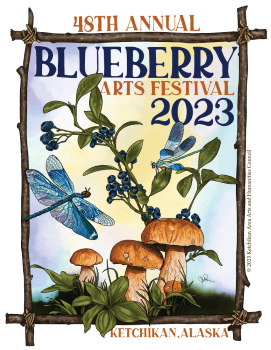 ---
The 48th Annual Blueberry Arts Festival spans three days, August 4, 5 and 6, 2023.
The Blueberry Arts Festival Artist Market will be Saturday, August 5th from 10am to 5pm.
---
---
Please apply to get on the waitlist. This form will let you pay for your membership - but not a booth. If we have an opening and can get you a booth we will ask you to pay for your booth at that time.
Before You Begin: You do not need to be a Ketchikan Area Arts and Humanities Council (KAAHC) Member to have a booth at the Blueberry Arts Festival! However, being a member helps sustain the KAAHC's ability to bring you wonderful programming and events like Art Walks, and the Wearable Art Show! There are so many benefits to membership, namely a reduced Booth fee and the opportunity to share a booth. If you would like to share a booth with another Vendor at the Blueberry Arts Festival, all applicants must be members. You may not share a booth if you are not members of the KAAHC. If you would like to become a KAAHC member and/or share a Booth space please follow this link to the Membership page. You can also become a member in the Online Booth Application for Members, or by calling Colm at (907) 225-2211. Need to verify membership status? Call us at (907) 225-2211.
Renewing Booth Vendors: You will be given priority until 5/31/2023! (This includes Booth Vendors from 2022.) We have a limited amount of booth spaces available. Only one booth per Vendor. Booths will be assigned on a first come, first serve basis. When all of the spaces are full we will start a waiting list!  Please do not delay, get your booth applications in today!
We will fill returning Booth Spaces by the order of their application receipt date through 5/31, then we will fill all Blueberry Arts Festival Booth Vendors by the date of their applications!