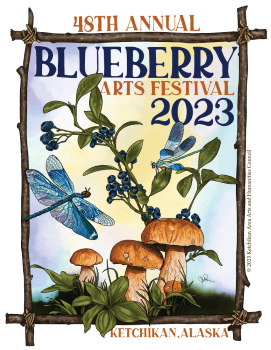 2023 Online Booth Application For Non-Members
You do not need to be a Ketchikan Area Arts and Humanities Council Member to have a Booth at the Blueberry Arts Festival! However, being a member helps sustain the Ketchikan Area Arts and Humanities Council (KAAHC) enabling us to bring you wonderful programming and events like the 48th Annual Blueberry Arts Festival, Art Walks, Story SLAMs and the Wearable Art Show! There are so many other benefits to membership, namely, a reduced booth fee. A membership also allows you to share a booth; a more economical option. (this requires all applicants in the booth to be members) If you would like to become a KAAHC member and/or share a booth please follow this link to the 2023 Booth Application for Members
---
Hello Folks! Welcome to the 48th Annual Blueberry Arts Festival Booth Application for Non-Members! We are super excited for a great Festival this year. Let's celebrate with the best Blueberry Arts Festival Ever! 
The 48th Annual Blueberry Arts Festival Artist Market will be back on Main, Dock, & Mission Street, Saturday, August 5th, 2023, from 10am to 5pm!
We have been working closely with the City of Ketchikan to keep Blueberry Arts Festival in downtown. The City Parking lot above the Improved Order of Red Men building will be parking kept open for your customers. The parking in Whale Park will be set aside for wheelchair accessible parking. We will have a walker and wheelchair loaner station available at the St. John's parking lot on Mission Street. 
ALL Booth spaces will be 10 x 10 and located outside (in the street). Please be prepared to face whatever elements the day has in store. It's highly recommended to bring a canopy for this purpose. Walmart, Madison, and Amazon all carry 10 x 10 canopies! Please make sure to not purchase and use a larger canopy, which would encroach upon your neighbor's space. 
Returning booth vendors will be given priority until 5/31/2023

We have a finite amount of booths available. Don't delay!

Booths are placed on a first-come, first-serve basis.

Finally, because everything is so different this year, we are asking for your help to spread the word about the Festival's changes. When you receive your Booth #, you will also receive a marketing packet. Please use the provided logos and information when sharing information on social marketing platforms such as Facebook or Instagram. Become a BBAF advocate!
---
Booth Application Form