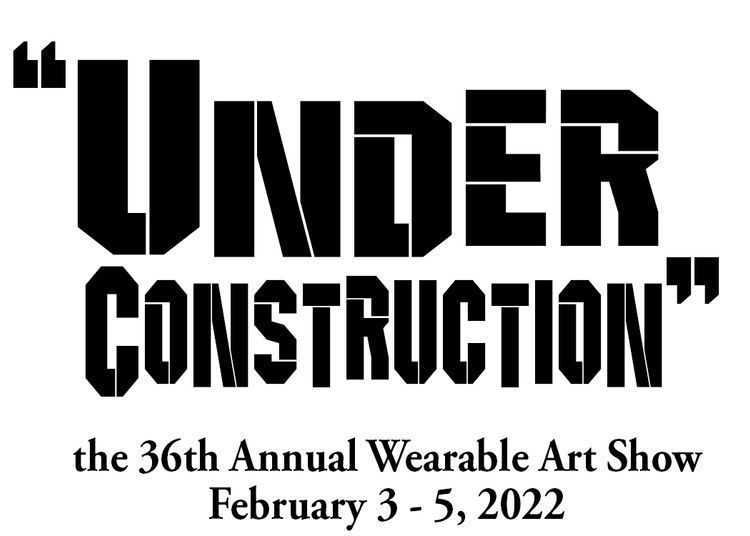 Be part of "UNDER CONSTRUCTION!" the 36TH Annual Wearable Art Show
---
Wearable Artists thank you so much for your patience!!!!
Below is a quick outline of dates and details about new aspects of the 2022 Wearable Art Show - click HERE or on the "Registration Form" on the right to get started applying! Applications are due January 10th, 2022. There will be a mandatory artist meeting on January 13th, 2022. The performance dates are February 3-5, 2022 - the mandatory dress rehearsal is on February 2nd.
We will have to implement some extensive mitigation to pull off the Wearable Art Show during the global pandemic. Please be sure you understand what we all have to do to be able to have this event next year - you can find all the details in the application and in the "Mitigation Information for Artists" sheet in the downloadable forms and info.
In addition to all of the mitigation measures, there are three things to keep aware of -
1. Models and artists that are 13 and younger will now be performing in the new March 26th Youth Wearable Art Show at Kayhi. They will no longer be performing in the February events at Ted Ferry Civic Center. Applications will come out soon for young artists and school groups. Artists and models that are 14 to 18 years old may also perform at the Youth Wearable Art Show if they would like to AND they can perform in the February event as well. We have been thinking about doing this shift for years, so young artists have a Wearable event that is focused on their growth and learning, and showcases them to their best advantage.
2. The Matinee will no longer be focused on school groups and families. The Matinee will now be the exact same show as the evening shows, but we will partner with Cape Fox to have a brunch options prior to the performance if people would like to do so (complete with a Bloody Mary bar, Mimosa Bar, and food too!). the Matinee will begin earlier that in previous years. The Wearable Art Show is the main fundraiser for the Ketchikan Area Arts and Humanities Council. Even still, the tickets for the Matinee Show are of much less cost than the evening shows. This is intentional in order to provide greater access for more sectors of Ketchikan to see and experience the amazing artwork of Ketchikan's Wearable Artists.
3. We are beyond excited about being able to create an environment in which we can have the Wearable Art Show again!!! We are so looking forward to seeing what you've been working on and creating over the past year!!! If you have any question please call us!!!! 907-225-2211
---
Participation in the Annual Wearable Art Show is free to KAAHC members and a $75 application fee for non-members  Everyone is welcome!!!
If you would like to become a member of the Ketchikan Area Arts and Humanities Council and participate in the Wearable Art Show, you can do so for as little as a $50 Artist Membership. Help support the programs and events of KAAHC!!! Click here to learn more!
Applications for grants and registration to participate in the Wearable Art Show will be available soon!