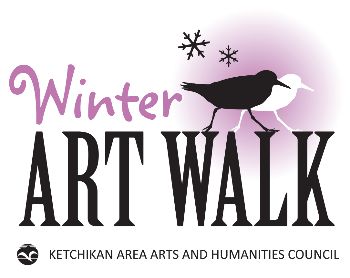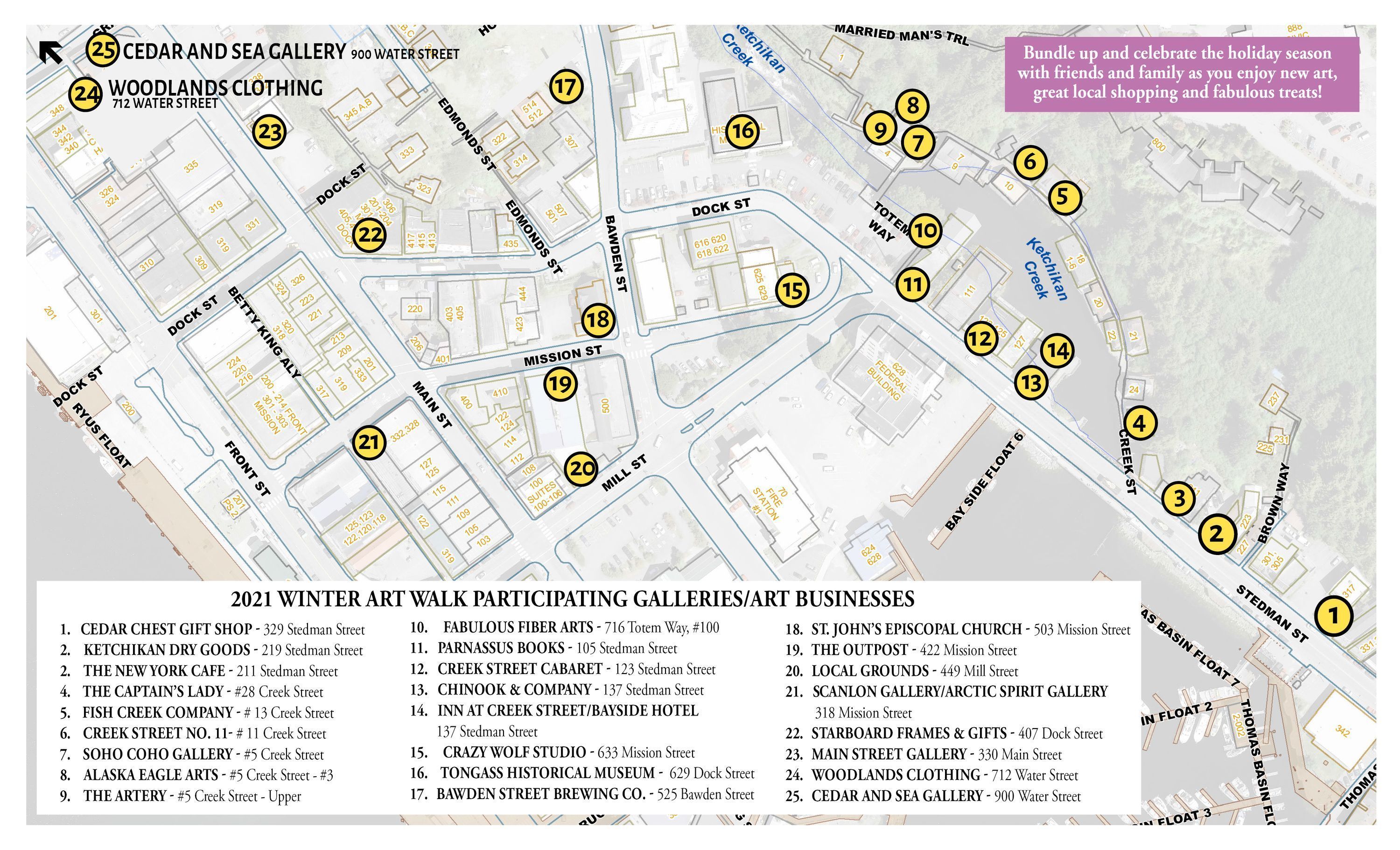 Enjoy the 2021 Winter Art Walk! Start at any of these participating galleries and art businesses and discover new art, enjoy live music, and have a great evening with friends and family. Remember to observe each location's COVID requirements.
330 Main Street
Opening Reception is Friday, December 3, 5:00 to 8:00 pm.
The exhibit runs ONLY one week, December 3-10.

"Youth in Art" is an open call exhibit for the youth in the Ketchikan area to display their most recent work in a professional setting. Individual and class art projects exhibited.

Alaska Eagle Arts Gallery5 Creek Street, Suite 3

Alaska Eagle Arts Gallery will be featuring artwork by Marvin Oliver. You can visit Brigette in-person or go online to see and purchase your favorite Marvin Oliver artwork!!

325 Bawden Street

Featuring Katrina Monta of "Glasses & Kurls" with her laser engraved cutting boards, serving boards, and original artwork.
In-person only.

Cedar Chest Gift Shop

329 Stedman Street

Featuring Susan Copeland's watercolors and art cards. Holiday cards. Hand-painted ornaments by Cindy Wortman. Refreshments served.

900 Water Street

Featuring contemporary Alaskan artwork by local encaustic artist Teresa Kershaw. Gift shop, home decor, original artwork and prints. Stop in and enter our December drawing!

137 Stedman Street

NEW artwork by Dave Rubin! Responsibly caught fish leather jewelry from Salty Sisters Designs. Copper River smoked salmon...a Chinook specialty! 10% off Art walk special!

633 Mission Street

Drop in and see what's new! Featuring artwork by Ken Decker and Summer Pattison of Bonfire Designs.

Creek Street No 11

Featuring local artists Amy Williams, Jena Artzen, and more! Storewide sale! Refreshments served.

123 Stedman Street

Austin Hays and Friends on stage. The delectable culinary art of Chef Michael Quick! Featuring artists Sandy Shepard and Kandy Kvale!

716 Totem Way, #100

Featuring classes throughout December taught by Nancy and Robin. Stop by to see our locally hand-dyed yarns from Robin's Nest Fibers Arts and Raven Frog Fibers, and quilt patterns by Maggie Lampton.

13 Creek Street

Featuring the art of Israel Shotridge, Gene Chilton, Kana Mettler, Copper River Fleece, and Trickster!

219 Stedman Street

All our favorites - Steven Villano, Rachel Walton, Foraged & Found, Snowbird Creations, and more! Expect fun refreshments!!!

211 Stedman St

Live music by local musicians, food specials and artwork by Dave Rubin, Beth Antonsen, and Jason D.H. Baldwin.

105 Stedman Street

Featuring a NEW book by Jeff Lund, "A Miserable Paradise", and Chip Porter's NEW book, "Just Lucky I Guess: Seventy Years and Counting: Southeast Alaska Short Stories". Serving specialty popcorn & cookies.

318 Mission Street

Featuring silversmith George Estrella with one of a kind pieces, and his apprentice, Charlotte Puff. Also, Melanie Burns with original acrylic paintings with reception.

5 Creek Street

Excited to be hosting Grace Freeman's Pop Up Shop featuring new works including her popular screen printed by hand items and original artwork.

407 Dock Street

Featuring Terry Pyles and Brian Elliot with new works and familiar favorites! New artists Janie Henderson and Debbie Johnson. Live music by Dave Rubin! Local treats and refreshments will be served.

St. John's Episcopal Church

503 Mission Street

5:00-7:00 PM Featuring local artists Delores Churchill, Dick Miller, Lynn Clay, Barbara Massenberg, Samantha Funk, Jane Bolima,
MJ Turek, rosaries made by the Altar Guild, and local native drums.

5 Creek Street, Upper

Kids Paint and Cookie Night! Ages 6 and up 6:00-8:00 PM. Drop your kids off for art fun while you shop! The kids will create an acrylic holiday painting and enjoy hot chocolate and cookie fun! Register your child at Our Classes page on www.thearteryketchikan.com

28 Creek Street

Our porch Pop Up features the original designs of local artist Ana Matta! Join us for refreshments and door prizes!!

422 Mission Street

Featuring artwork by David C. Singer Designs and Devils Club products by Felicia Dupea-Fleury of "Same, But Different", and 25% off metal work by "Anonymous".

Tongass Historical Museum

The Alaska Positive 2019 exhibit features 38 photographs by 26 Alaskan photographers, including three local photographers: Mike Gates, Deborah Mercy, and Rafael Torres. Spring Registration for Native Arts Studies Classes starts Dec 1, and registration is available.