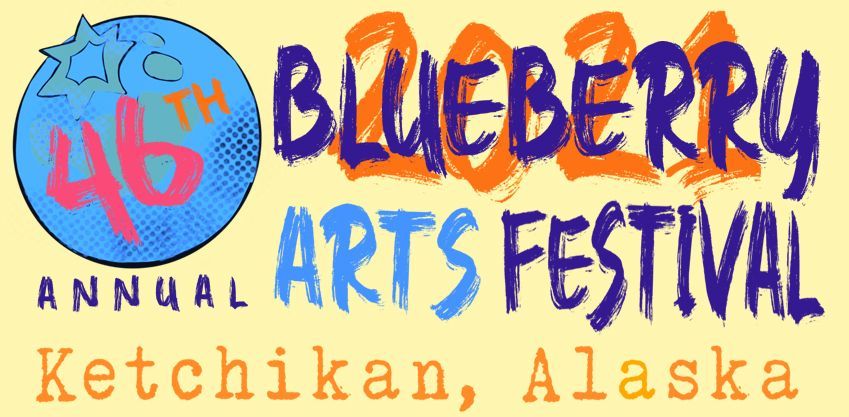 FREE Blueberry Vaccine Clinic Information!
The Ketchikan Area Arts and Humanities Council is excited to present the first ever FREE Blueberry Vaccine Clinic during the 46th Annual Blueberry Arts Festival!!! Sponsored by the Greater Ketchikan Chamber of Commerce and in partnership with the Ketchikan Public Health Center the FREE Blueberry Vaccine Clinic will be Blueberry Saturday, Saturday, August 7th, at the St. John's Episcopal Church parking lot, 10am to 5pm.
The FREE Blueberry Vaccine Clinic will have available all three COVID vaccines: Pfizer, Moderna, and the Johnson & Johnson vaccines. Anyone can get their first or their second vaccine at the clinic! Please bring your vaccine card if this is your second. Those interested in a vaccine may sign up prior to Blueberry Saturday to schedule a time, but it is not required as walk-ins are very, very welcome. Please see the QR code and link below.

We area thrilled for the sponsorship by the Greater Ketchikan Chamber of Commerce for the Clinic!!! In June the Ketchikan Chamber of Commerce received a $45,000 grant from the Alaska Chamber to incentivize vaccinations in Ketchikan. The Chamber spent the bulk of the grant to purchase $100 gift cards from local Ketchikan businesses to be given away at several vaccine clinics throughout the month of June. As the original one-month grant timeline runs out, the Chamber still had funds and $100 gift cards to disburse. So, in a new collaboration, the Chamber will re-granting funds and gift cards to the Arts Council for the FREE Blueberry Vaccine Clinic, and continue to encourage the Ketchikan community to be vaccinated from the COVID-19 virus.

Each person that receives a COVID-19 vaccine during the FREE Blueberry Vaccine Clinic will also receive a $100 gift card to a local Ketchikan business!!! In addition, each newly vaccinated person will be entered to win in hourly $100 CASH prize drawings from the Blueberry Mainstage located this year at the Market Cafe at the corner of Main and Dock streets. Every newly vaccinated person's name will be put back into the drawing for the Grand Prize of $2,000 drawn at 4:45 from the Mainstage. PLUS everyone who has received a vaccine either at the Blueberry Clinic or prior, and can show their vaccine card, is eligible to be entered in the Grant Prize drawing!!!! Enter your name at the Blueberry Vaccine Clinic tent!

Lastly, persons receiving vaccines on Blueberry Saturday will be encouraged to make some art while they are waiting. Artwork created at the Blueberry Vaccine Clinic will be combined with other artwork stations throughout the Blueberry Arts Festival to make a full installation to be exhibited at the Main Street Gallery.