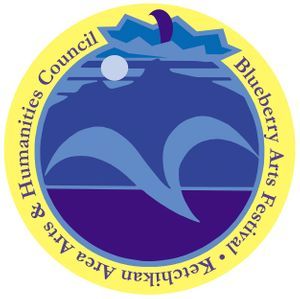 The Ketchikan Area Arts and Humanities Festival has been creating the Blueberry Arts Festival since 1975. The event has taken place annually in downtown Ketchikan since the beginning and  it is always the first weekend in August. Events beginning on Friday with the Pet and Doll Parade (possibly the cutest - and shortest - parade of all time), continues with the Opening of the Blueberry Arts Festival Art Exhibit at the Main Street Gallery, and the announcement of the winners of the Best Blueberry Dish Contest and winners of the judged art contest, plus your chance to weigh in with the Peoples Choice awards!
Saturday opens with the Blueberry Arts Festival booths beginning at 10 am and closing at 5pm. For the first time since 1975, we moved the Festival downtown in 2021 to Mission, Grant and Main streets. The change was so welcomed by booth holders and attendees that we have decided to keep it there for the foreseeable future. Yay!! On Saturday you can also hear local musicians and performers at the Mainstage, see slugs racing, enter a pie eating contest, enter your beard (real or created) to win fabulous prizes, and yes, see lots of amazing art, learn about community services, and eat amazing food!!! OH! don't forget to get your Blueberry Arts Festival t-shirt at the Ketchikan Arts and Humanities council's booth. Each year local artists submit pieces to be selected for the t-shirt, so every year is different - and a fun keepsake!
Sunday closes out the Festival with the annual Handmade Human Powered Blueberry Boat Race in Thomas Basin, and the annual Richard Brautigan, Dick Whittaker, and Lillian Ference Memorial Trout Fishing in America Poetry Slam. We anticipate that the Annual Gigglefeet Dance Festival will leap back into action soon after the hiatus imposed by the pandemic.
Applications to apply for a Blueberry Arts Festival booth become available on the first Friday of May during KAAHC's annual Celebration of the Sea Art Walk in downtown Ketchikan. Check back here for applications and more information after the first Friday in May!!!
Questions? Comments? Deep thoughts?
Call Katy at 907-225-2211 or email katyp@ketchikanarts.org