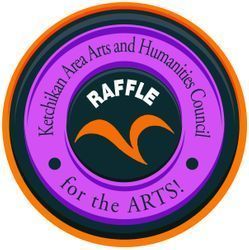 Thank you for purchasing raffle tickets and helping to support the programming and events of the Ketchikan Area Arts and Humanities Council. Please note: we are closed for winter break and will send your raffle envelops  to you FIRST THING when we get back on January 3rd.
You are officially awesome!!!
GRAND PRIZE: "Take Me Away!!!"
∙Two Round-Trip Tickets on Alaska Airlines
∙One Night Stay at Coast Gateway Hotel
∙Two Seattle City Passes
∙Two Seattle Orca Cards!!!
FIRST PRIZE: "Take Me to Your Studio!!!"
∙One of a Kind Fire Pit created by artist
    Rhonda Green!!!
SECOND PRIZE: "I Am Adventure!!!"
∙Three Night Stay and Zipline! -
    Fireweed Lodge in Klawock!!!!
∙Round Trip for Two Adults - IFA
THIRD PRIZE: "I Love Ketchikan!!!"
∙One Night Stay for Two - Inn at Creek Street
∙A Divine Meal for Two -
    Created by Chef Cameo McRoberts!!!
∙A Skiff for a Day!!!
    Alaska Sportfishing Expeditions
FOURTH PRIZE: "The Ocean Sustains Us"
∙A Day Kayaking - Southeast Exposure
∙Gift Basket of Goodness! - Foraged and Found