November 6-27, 2015: HALL-I-DAY AT THE DUMP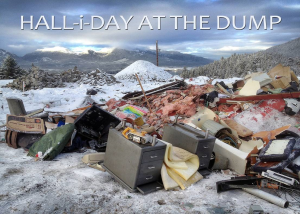 HALL-I-DAY AT THE DUMP
A photo essay by Hall Anderson
November 6-27, 2015
For over forty years Hall Anderson has been intrigued by the inherent drama found in the natural and urban landscapes we live in. He is fascinated by the unintentional choreography and the uncanny juxtapositions that seem to persist.
For the last three years, Hall Anderson has focused this fascination on photos of the Ketchikan Landfill. It fits the parameters of his photographic obsession quite well – discarded objects tossed together in a heap, forming unintentional tableaux that create visual dramas, often arresting in their symmetry or visual marriage, and each discard making a statement about our society and culture.
As a departure from his 30 years as a staff photographer at the Ketchikan Daily News, Hall is using his iPhone camera to create this photo documentary. The iPhone is something of a throw away itself, and not taken seriously as a camera. It is ideal for quick, spontaneous photos. This unpretentious device is perfect for driving up to the landfill and taking a photo now and then, so very different from the ritual of pulling out the heavy, imposing Nikon, which seems to make a statement by its very presence.
Hall Anderson is presenting this unique subject for Ketchikan viewers, possibly a thought provoking insight about a little considered aspect of our culture and what our trash reveals about us.