Rainy Day Quilt Guild - Quilt Show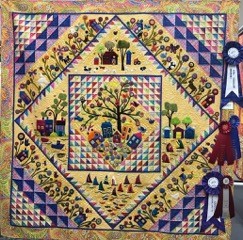 The Annual Quilt Show presented by the Rainy Day Quilt guild is a breathtaking exhibit. Don't miss this display!! You will be blown away by Ketchikan's quilters!
The 28th Annual "Quilting in the Rain" quilt show, hosted by the Rainy Day Quilt Guild, will be held February 16th and 17th at the Ted Ferry Civic Center. This free event is open to everyone from 10:00am-6:00pm on Saturday and 10:00am-4:00pm on Sunday. More than 100 quilts will be on display from local quilters. Attendees can also participate in a hands-on "make-and-take"project, vote for their favorite quilt, and enter to win a one-of-a-kind quilt. A special Quilts of Valor ceremony will take place at 2:00pm on Sunday. Patriotic quilts will be presented to local veterans as part of this ongoing project.