33rd Annual Wearable Art Show GALA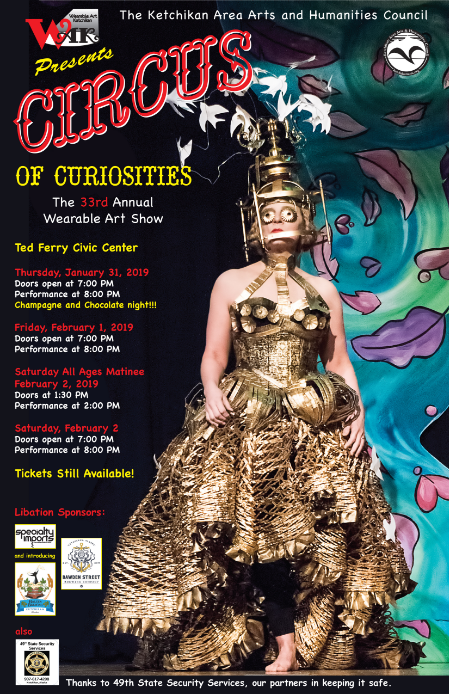 This years theme is "Circus of Curiosities". Doors at the Ted Ferry Civic Center open at 7pm, the show starts at 8pm. All seats are reserved this year for the Gala performances!!
Tickets are still available for the Thursday Night Opening Gala performance, January 31st. Thursday's performance features a champagne and chocolate extravaganza for the audience! In addition, along with fine wines donated by Specialty Imports, we will be featuring Ketchikan's two new breweries; Bawden Street Brewing and Baleen Brewing Co. Yummy!!! You can get tickets from the link below and pick out the seats of you choice - or you can give us a call and we will help you make your purchase!
Tickets are also still available for the Saturday afternoon All Ages Matinee! These seats are not reserved, please call the Arts Council to get your ticket! 225-2211
**Please Note** Outside alcohol is not allowed into the Ted Ferry Civic Center during the Wearable Art Show. If you are found to have outside alcohol inside the venue, you will be asked to throw it away or to leave the premises.
The Ketchikan Area Arts and Humanities Council is excited to partner with 49th State Security Services this year to make sure we are all safe and happy during the Wearable Art Show!!!