"exhale. click. release. meditations with camera" a solo exhibit by Brooke Ratzat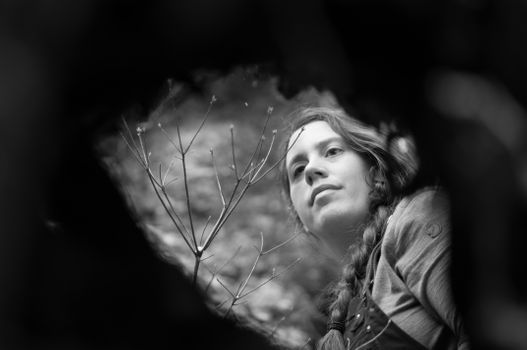 Self Portrait
My meditation is slow walks with my camera. My meditation is finding the space between spaces. Capturing the light, the energy of a passing moment. Shifting my perspective while shifting my mind and body. Focusing my intention, my camera, and then releasing that intention and seeing what resides in the blurred edges.
We have included images of the Main Street Gallery because you can not be there to see the strings and rocks suspending my prints from the ceiling. I invite you to explore these Gallery pages, read the quote that inspired me in this work, take a breath, release, and "walk" through my exhibit's gallery images slowly and with intention, taking the time to breathe. Please enjoy the exhibit videos "Guided Gallery Meditations" below.  Each video is a guided meditation of each trail. This was a collaboration between videographer Jason D.H. Baldwin, sound engineer Kyle G. Bailey, and myself. Our intention is to bring the Gallery experience to your home safely, and the opportunity to participate in the meditation over and over again. Take care everyone. I'll hug you on the other side!
  - Brooke Ratzat
Exclusive Artist Talk with Brooke Ratzat
An intimate autobiographical talk about how COVID-19 has changed her gallery opening and the various inspirations behind her installation.
"Guided Gallery Meditations" exhibit videos by Jason D.H. Baldwin
Rainbird Guided Gallery Meditation
Ward Lake Guided Gallery Meditation
Whitman Guided Gallery Meditations
Images of the Main Street Gallery
---
"exhale, click. release. meditations with camera" the image gallery
Look, and it can't be seen.
Listen, and it can't be heard.
Reach, and it can't be grasped...
...image without an image,
subtle, beyond all conception. Approach it and there is no beginning;
follow it and there is no end.
You can't know it, but you can be it,
at ease in your own life.
Just realize where you come from:
this is the essence of wisdom.
  - Tao Te Ching written by Lao Tzo translated by Stephen Mitchell
Meditations on the Rainbird Trail Aug. 1, 2019
---
Meditations on the Ward Lake Trail Oct. 9, 2019
Empty your mind, be formless, shapeless — like water. Now you put water in a cup, it becomes the cup; You put water into a bottle it becomes the bottle; You put it in a teapot it becomes the teapot. Now water can flow or it can crash. Be water, my friend.
  - Bruce Lee
---
Express yourself completely,
then keep quiet.
Be like the forces of nature:
when it blows, there is only wind;
when it rains, there is only rain;
when the clouds pass, the sun shines through.
- Tao Te Ching written by Lao Tzo translated by Stephan Mitchell
Meditations on the Whitman Trail Jan. 7, 2020