"Taken Out of Context" a solo exhibit by Cameo McRoberts January 8th -29th, 2021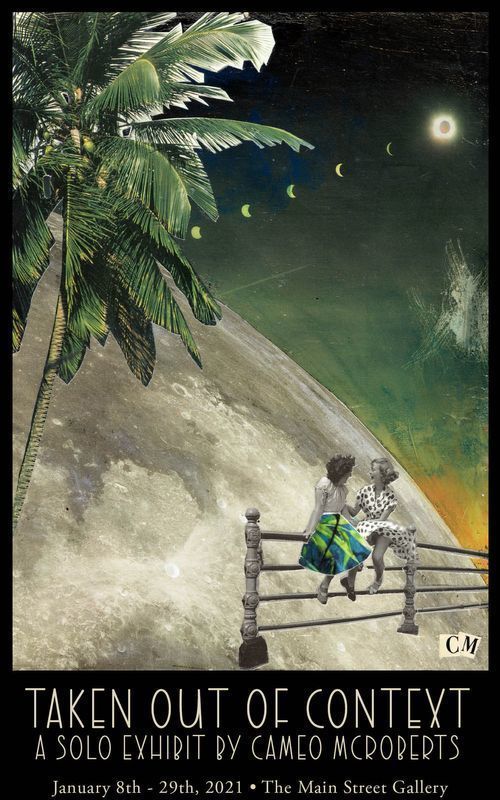 Cameo McRoberts in her first solo exhibit makes creative fodder from a century of print images, challenging the original context and creating new perspectives.
My name is Cameo McRoberts. 
I am an artist. I make art by cutting up books and magazines. 
Taken out of Context is a collection of little stories about women, created using images extricated from their original context and placed on paper with scissors and glue into worlds of my creation, relying on my fascination with popular culture, my twisted sense of humor, and my inexhaustible appreciation for the undeniable beauty, resilience, worthiness, and moxie in all women. 
Please enjoy.  
Cameo
Learn more about Cameo McRoberts. 
Welcome to the Online Main Street Gallery for Cameo McRoberts solo exhibit "Taken Out of Context"! Below you will find images of all of the pieces found in her exhibit. Some are images of the "Original" collage of clipped media either made on a wood panel or composed on paper. Of these pieces, the artist made a few "Prints". These prints were made for the Main Street Gallery and are signed and float mounted on black foam core. Some of the images below are of "Original Gallery Prints". These pieces, the printing is part of the artistic process and they are the original, 1 of 1, printed specifically for this gallery exhibit. They are signed by the artist and float mounted on black foam core. Finally, because the artist feels fine art should be affordable and accessible to all, some of the amazing pieces of artwork have prints available! .The prints are printed locally by Terry Pyles on cold press watercolor paper. They will be made to order and available for pick up after February 1st. They are available in three different sizes, 8 x 10, 11 x 14, and 18 x 24, and are available for purchase through the Online Main Street Gallery Store. They have a digital signature, they are not individually signed, and they are not mounted. If you have any questions, please call the Arts Council at (907) 225-2211.