"Kaxátjaashaa: Herring Rock Woman" an exhibit in partnership with the Herring Protectors January 5th - 28th, 2022 In-person at the Main Street Gallery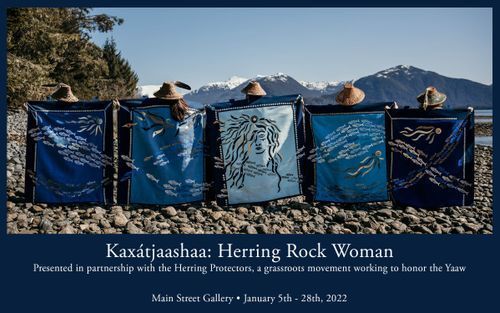 Lingít artist Káakaxaawulga - Jennifer Younger, ally Carol Hughey, and Haida artist Kitkun - Charlie Skutka Jr. created a series of robes in partnership with the Herring Protectors, to celebrate the story of the "Kaxátjaashaa: Herring Rock Woman" View the powerful Lingít dance robes that tell the story of the first woman to call the Yaaw, the herring, to Sheet'ká Kwáan - Sitka, Alaska
January 5th - 28th, 2022  at the Main Street Gallery
Opening Reception Friday, January 7th, 5:00 - 7:00 pm  Main Street Gallery 
Friday, January 7th, 5:00 - 7:00 pm
The Herring Protectors are a grassroots movement working to honor the Yaaw. Follow their movement on Instagram @HerringProtectors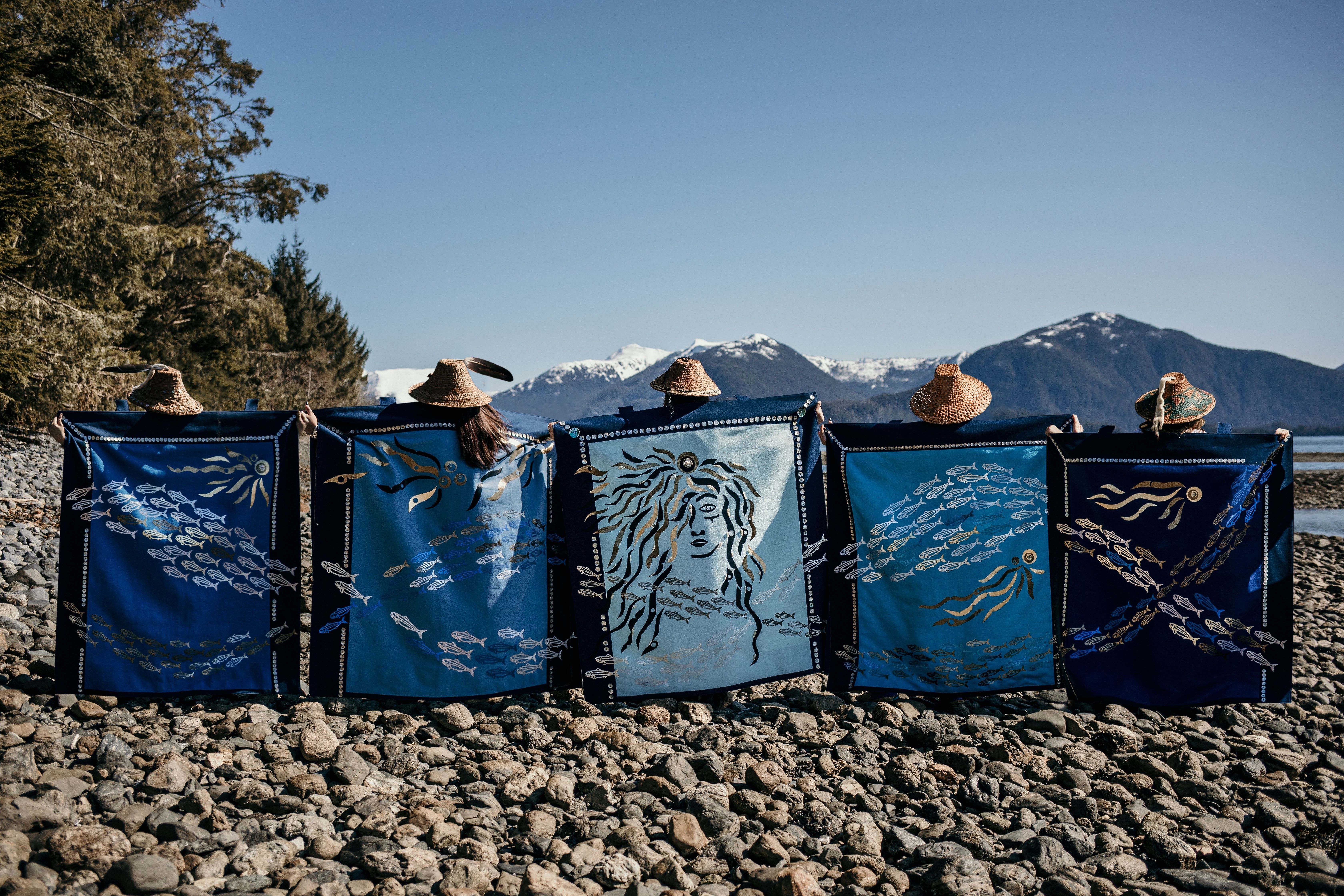 image credit: Caitlin Blaisdell image used with permission by the Herring Protectors. Many thanks to the Ketchikan Indian Community for helping to bring the exhibit to Ketchikan!
"These robes tell the story of Kaxátjaashaa, Herring Rock Woman, who was the first to call the Yaaw, the herring to Sheet'ká Kwáan - Sitka, Alaska.
The herring school design unites the five robes in a double helical pattern of DNA because, as Kiks.ádi Herring Women, our identity and survival is bound to the herring and we are stronger together.
Dimes were drilled for adornment on the button robes because we would rather celebrate abundance than accept currency for extraction.
The vintage silk lining and the pearl beads evoke images of the foamy waters of herring spawn and the eggs they lay. Both are from WW2-era Japan, referencing their extinct herring population after overfishing.
13 volunteers put in over 400 hours working away in Carol Hughey's studio, and we would like to thank all who contributed to these robes that will be used for generations."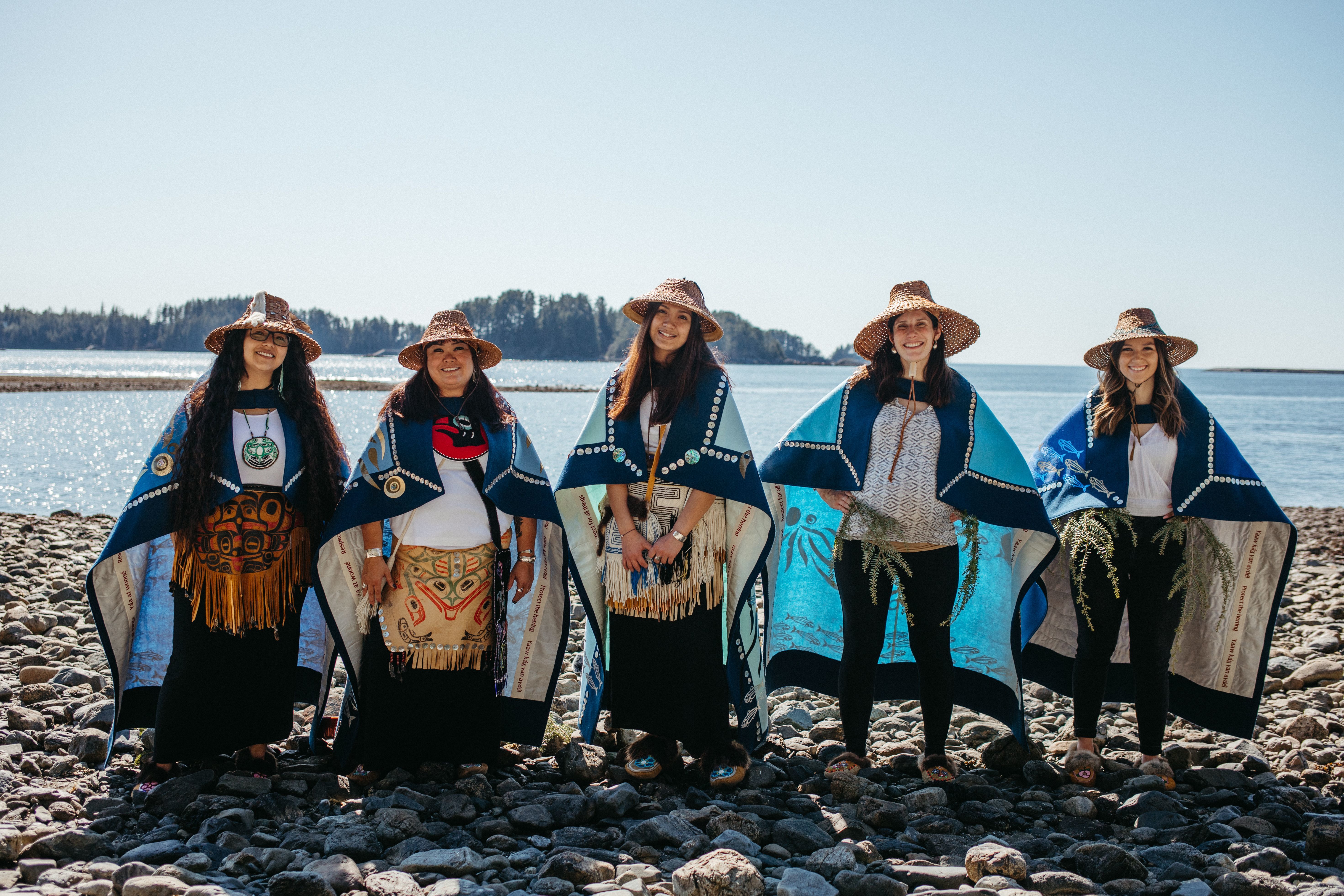 Kaxátjaashaa/Kiks.ádi Herring Women Dancers: (left to right), Aanwugeex'/Vanessa Bradley, Yeidikook'áa/Dionne Brady-Howard, Sakikán/Isabella Jackson, Yaawk'u Tláa/Chandler O'Connell, Saningí Tlaa/Nyla Duncan.
image credit Caitlin Blaisdell
---
"Yaaw…the herring… are so important to we who are, Tlingit…to our way of life…Haa Kusteeyí. The herring nourish the whales…the salmon…the seals…all those foods we treasure. Their return signals the change of seasons…Taking us from the dark fall and winter to the light and warmth of spring. A time of rebirth! Of all the places herring spawn in Tlingit country - the Sitka Herring Rock-Yaaw T'eiyi was the first place they came to."
The story of Kaxátjaashaa: Herring Rock (Yaaw T'eiyi) Woman
A long time ago, one warm spring day, a young Kiks.ádi woman went to the beach at low tide and sat on that Rock.
She sat there for hours…singing to those herring.        
The people thought she was lazy…. that she was just sitting on that rock…sunning herself - while everyone else was working hard…
preparing for fishing, hunting, berry picking and gathering the foods that sustain us through the year.
Even though people called her lazy…she kept going to that rock and singing to those herring…singing…I am your friend…come to me.
One warm sunny day, the young lady fell asleep on that rock.
She awoke, and her long black hair was floating in the water.
The herring were swimming around the rock…coming to the surface…reflecting the light like a shattered mirror when the sun hits it
The herring had laid eggs in her hair…her patience and respect rewarded by the return of the herring
She showed we must care for the herring. When we respect them…we assure abundance for all who live here.
This story is owned by the Kiks.adí people and shared with permission