Artists of Ketchikan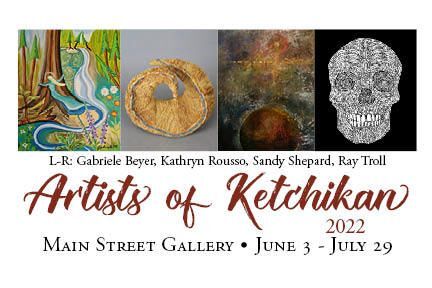 This annual invitational exhibit celebrates the diversity and spirit of the Ketchikan area community.
The exhibit is available in person at the Main Street Gallery from June 3rd - July 29th
Images of the Gallery will be available on June 3rd at 8:00 pm!
The artists of Ketchikan are as varied as the shades of green in our rainforest and the blues in our ocean! Their voices are as unique as their art, each inspired by the wonders of the area and the materials they work with.
The Ketchikan Area Arts and Humanities Council is proud to present to Ketchikan an exhibit of diversity and inclusion, emotion, strength and fragility, color, contrast, and light!
We are proud to showcase many of Ketchikan's artists in the Annual Artists of Ketchikan Invitational Exhibit. 
While there are many more artists in our community than the fourteen represented here we believe the passion and quality of the artists exhibited represent the spirit of the creative community of Ketchikan.
Most of the artists represented in this exhibition are featured in one of Ketchikan's local galleries. 
The arts and artists of Ketchikan are a point of pride for the community and we hope that you enjoy the Artists of Ketchikan exhibition at the Online Main Street Gallery and explore the other locations throughout the community they may have their art exhibited!
---
Click on thumbnails for an expanded image and a direct link to the purchase page!