Open Call Blueberry Festival Exhibit Deadline for Submissions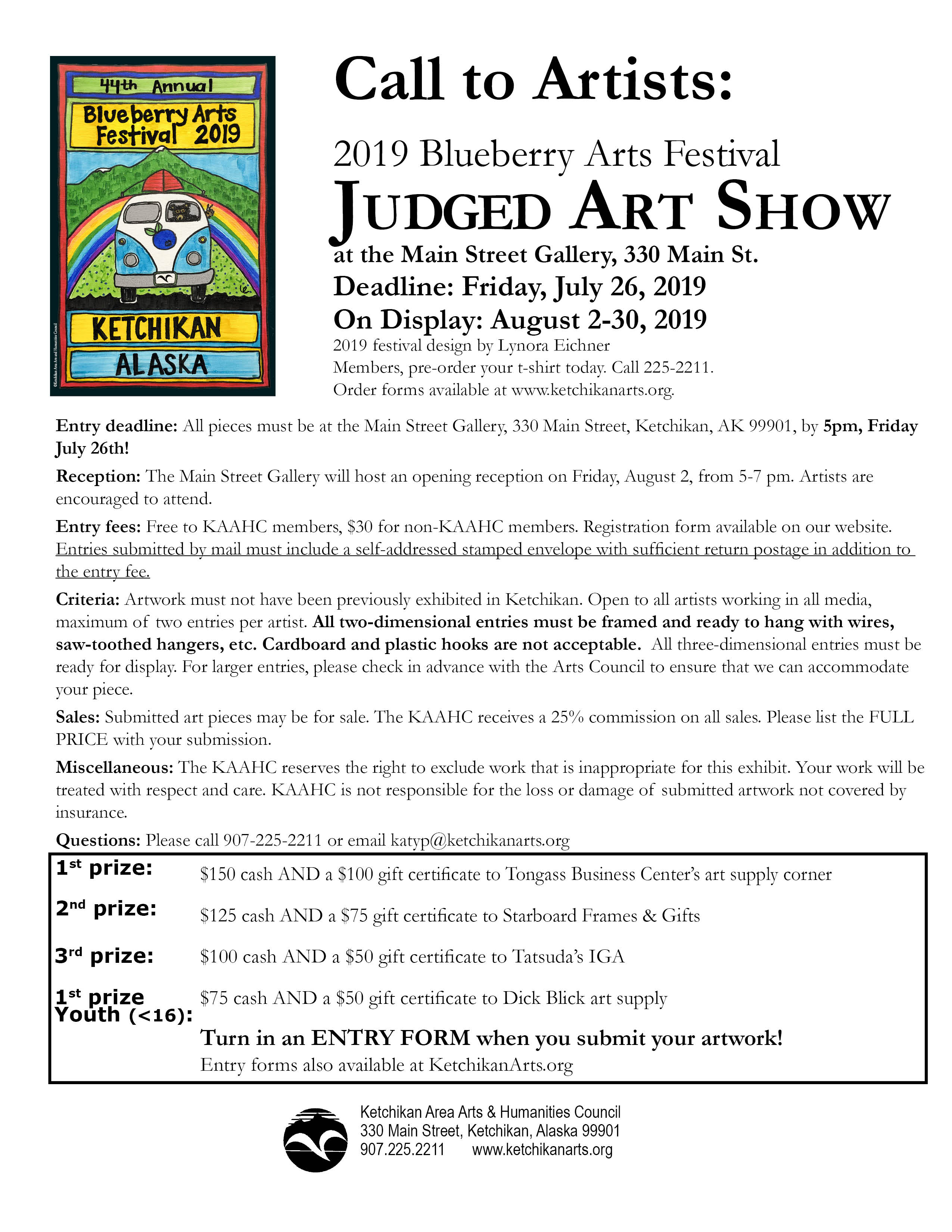 An open call to all artists, all ages, working in all mediums. The Blueberry Festival Art Exhibit is accepting submissions for one week. July 22- July 26th!!! Each artist may submit up to two pieces. All pieces must be at the Main Street Gallery by 5:00 pm, Friday, July 26th!!
Entry Fee: Free to all KAAHC Artist Level Members and above!
$15 for Basic Membership Level
$30 for all Non-KAAHC Members
Another reason to become a member today!
Art Submission forms are available on our website and at the Arts Council.
Criteria: Artwork must be original works of art made specifically for the Blueberry Arts Festival Open Call Art Exhibit. Open to all artists, all ages, all levels, working in many mediums. Maximum of two entries per artist. All two-dimensional entries must be framed and ready to hang with wires, saw-toothed hangers etc. Cardboard and plastic hooks are not accepted. All three-dimensional entries must be ready for display. For larger entries please check in advance with the Arts Council to ensure that your piece can be accommodated.
Sales: Submitted pieces may be for sale. The KAAHC receives a 25% commission on all sales. Please take that into consideration when pricing your art.
Miscellaneous: The KAAHC reserves the right to exclude work that is inappropriate for this exhibit. Your work will be treated with respect and care. KAAHC is not responsible for the loss or damage of submitted artwork not covered by insurance.
Opening Reception: The Main Street Gallery will host a reception on Friday, August 2, from 5:00 - 7:00 pm. Artists are encouraged to attend. Opening receptions are always free and open to the public. Please invite your friends to come.