Washington State Convention Center RFQ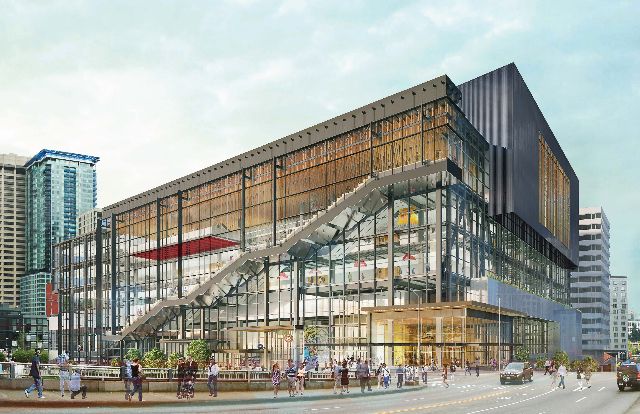 The Washington State Convention Center and Pine Street Group seek an artist or artist-led team to create a site-specific artwork for a dramatic and highly visible site. Within Seattle's newly expanding Convention Center, The Party Room is a cantilevered space extending event activities at the Ballroom (6th floor) level. Below this event space is an impressive site for artwork—visible within the Convention Center Addition from the escalators and dramatic stair climb landings, and also from outside the building on Pine Street, a main east/west connector from Capitol Hill to the waterfront.
Location
The Party Room artwork is not intended to occupy the space above the event activities, but rather below the event space, engaging the large interior volume of the Addition. The Party Room site hovers 100 feet above the main floor of the Addition. The area is 119' east-west by 25' north-south for a total of 2,975 square feet. It will be viewable from multiple levels within the space as well as from Pine Street through the building's glazed curtain wall.
Potential artwork media and application are open including 2D and 3D applications as well as light and digital-based media and kinetic forms. The selected artist will be encouraged to think broadly about the possibilities for the art. There will be technical parameters to consider for this artwork including weight loads and other structural considerations and site installation logistics.
Budget: $800,000 [Artist's project budget is inclusive of artist fees, materials, fabrication, on-site installation, travel and transportation, and Washington State Sales/Use Tax. In addition to the artist's project budget, the Addition has set-aside $200,000 for lighting and electrical service, engineering support.]
Eligibility: Open to professional artists and artist-led teams residing in the United States or British Columbia.
NOTE: Submissions are due by 4:00pm PDT