Event Calendar
Sam Pitcher Music Scholarship Application Due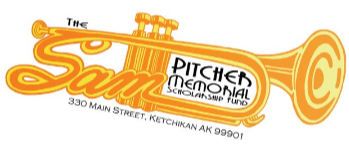 The Sam Pitcher Music Scholarship was established to honor the memory of Seming "Sam" Pitcher, a gifted young man who was active in the various music programs available in Ketchikan. The goal of the Sam Pitcher Music Scholarship is to help give other young musicians the opportunity to expand their music horizons by attending similar summer music programs.
General Information
Awards start at $700 will be provided to a Ketchikan youth grades 7 - 12 for use at a summer music program. This is a merit-based scholarship. Awards will be paid directly to the program in the name of the applicant. Awards will be based on the applicant's musical ability, goals, and motivation. It is the applicant's responsibility to research programs and provide requested information to the selection committee.
Application Instructions
1) Links for online and downloadable applications can be found below. Paper applications are available at the Arts Council, 330 Main Street.
2) Online and paper applications are due, and mailed applications must be postmarked, by December 1, 2019.
3) A minimum of two reference forms must be submitted. All references must be adults not related to you and at least one must be a music educator.
4) APPLICANTS WILL BE REQUIRED TO PARTICIPATE IN AN AUDITION. When auditioning, a student's age and years of experience will be taken into account.
Audition Information
For audition materials for High School students, please follow the link below and select your instrument. The High School audition music is the same as the Southeast Honor Band audition material. Once you click the link, you must scroll down to find your instrument. Applicants should expect to be asked to sight read during the audition in addition to the specified materials listed.
Audition materials for MIDDLE SCHOOL students includes the following:
- one major scale of your choice
- one lyrical piece of your choice
- one technical piece of your choice
Please submit paper applications by December 1, 2019 to:
Sam Pitcher Music Scholarship
c/o Ketchikan Area Arts and Humanities Council
330 Main Street
Ketchikan, AK 99901