Ketchikan Community Chorus - "European Noel"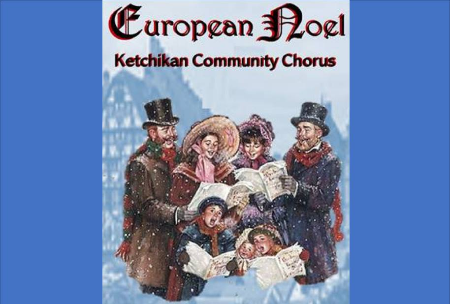 Come December 5 and 8, Ketchikan folks will get a glimpse of Christmas in Europe. The Ketchikan Community Chorus presents "European Noel", a collection of Christmas Carols and other associated music used by various European countries at Christmastime. The audience will be greeted by representatives from England, France, Spain, Germany, Italy, Poland and Russia, each introducing the listener to the music and customs enjoyed at their celebrations. During the introduction of each culture, special attention will be given to one or more unusual aspects of Christmas in that country. The music will be presented in both the native tongue and in English so enjoyment can be experienced both from the music of the language and the meaning of the words. Much of the music is familiar, yet the arrangements chosen are unique. Kinney cautioned that the arrangements are not necessarily attuned to their culture of origin, but rather … "they're just neat to listen to".
As with many chorus concerts, this will be a multi-sensory experience, with the chorus dressed in traditional clothing and the refreshments featuring special desserts from some of the featured cultures.
Over the course of the evening you will visit and hear:
Happy Christmas from ENGLAND: "O Come All Ye Faithful", "O Holy Night" and "I Saw Three Ships"
Joyeux Noel from FRANCE "Allon Gay Bergeres", "Touro, Louro, Louro" and "March of the Kings"
Feliz Navidad from SPAIN: "Naanita Lulaby", "Riu, Riu, Chiu" and "Fum, Fum, Fum"
Buon Natale from ITALY: Dormi, Dormi
Frohlicke Weihnachten from GERMANY: "Kling Glockhen" and "O Tannenbaum"
Frohliche Weihnachten from AUSTRIA: "Silent Night" and "Still, Still"
Wesolych Swiat from POLAND: "Totus Tuus"
Hristos Razdajetsia from RUSSIA: "Salvation Is Created"
Director Steve Kinney will be making his final appearance as Musical Director for the chorus and believes that this evening will be one of his most enjoyable. It's a brief immersion into another place.
Performances will be held at the Ketchikan Presbyterian Church on Second Avenue, Thursday, December 5 at 7 pm and Sunday, December 8 at 2 pm.
Tickets - $20/Adults, $15/Seniors (65+), $5/Students, Adults and Seniors save $5 by purchasing tickets in advance.
Tickets are available at KAAHC, Celebration Station and Skylar's Table, from performers, or directly through facebook/Eventbrite (service fee applies).