Ketchikan area Artists and Creatives have been inspiring the communities of this area since the beginning. Whether it is beautifully engineered and created halibut hooks, or the magnificent totem poles of the area, to the stories, poetry and drawings for the inception of the Alaska Magazine, to the creation and evolution of Wearable Art in Alaska artists continue to make the world we live in meaningful and joyful.
This page is still a work in progress and will soon contain an Artist Directory of the area artists, and a catalogue of Public Art in the Ketchikan area.
To the right please find Artist Resources.
Below are the Calls to Artists listed in deadline order. Local and Regional Calls to Artists are posted as we find them. If you know of a Call that is not listed on this page, please e-mail details to Katy at katyp@ketchikanarts.org we would love to include it here as a resource to artists!
For more Calls to Artists at the National level visit CaFE (a Call for Entry system hosted by WESTAF)
Southeastern Art Show and Market opens
The Southeastern Art Show and Market (SEASAM) and SEASAM Youth has been part of the Chickasaw Annual Meeting and Festival since 2005. SEASAM and SEASAM Youth provide a unique marketplace where adult and youth artists from federally recognized Southeastern tribes can flourish. The competition portion of the market includes category awards, division awards and a Best of Show award for adults and judges' awards, division awards and a Best of Show award for youth.
Allowing for the continuation of connecting patrons with one-of-a-kind and exciting First American art and artists, our 2020 and 2021 SEASAM competitions and markets were moved to a virtual format for the safety of artists and patrons.
The 2022 Southeastern Art Show and Market and SEASAM Youth will once again be in-person and part of the Chickasaw Annual Meeting and Festival. The market will take place in Tishomingo, Oklahoma on Sept. 30 and Oct. 1.
CANCELED (Story Slam "When I Grow Up")
Stories at Latitude 56 with host Jack Finnegan bring you seven Story SLAM events at the Creek Street Cabaret! $3 at the door. Join us for impromptu storytelling with friends, neighbors, and visitors! Themes are suggestions, not requirements!
"Carhartt Art"-Open Call Submission Deadline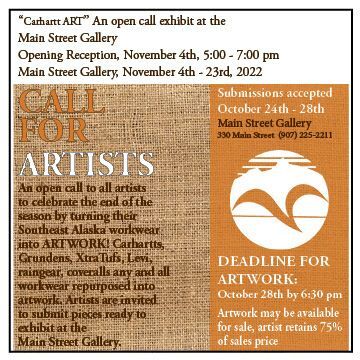 Open Call Submission Deadline Today