Main Street Gallery exhibit "Kaxátjaashaa: Herring Rock Woman"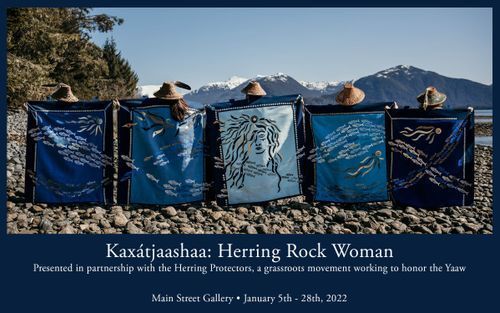 Lingít artist Káakaxaawulga - Jennifer Younger, ally Carol Hughey, and Haida artist Kitkun - Charlie Skutka Jr. created a series of robes in partnership with the Herring Protectors, to celebrate the story of the "Kaxátjaashaa: Herring Rock Woman" View the powerful Lingít dance robes that tell the story of the first woman to call the Yaaw, the herring, to Sheet'ká Kwáan - Sitka, Alaska!
The Herring Protectors are a grassroots movement working to honor the Yaaw. the herring. Follow their movement on Instagram @HerringProtectors
photo credit: Caitlin Blaisdell image used with permission by the Herring Protectors.
Many thanks to the Ketchikan Indian Community for helping to bring the exhibit to Ketchikan!
Main Street Gallery exhibits are always free and open to the public! Please wear a mask while visiting the Main Street Gallery.