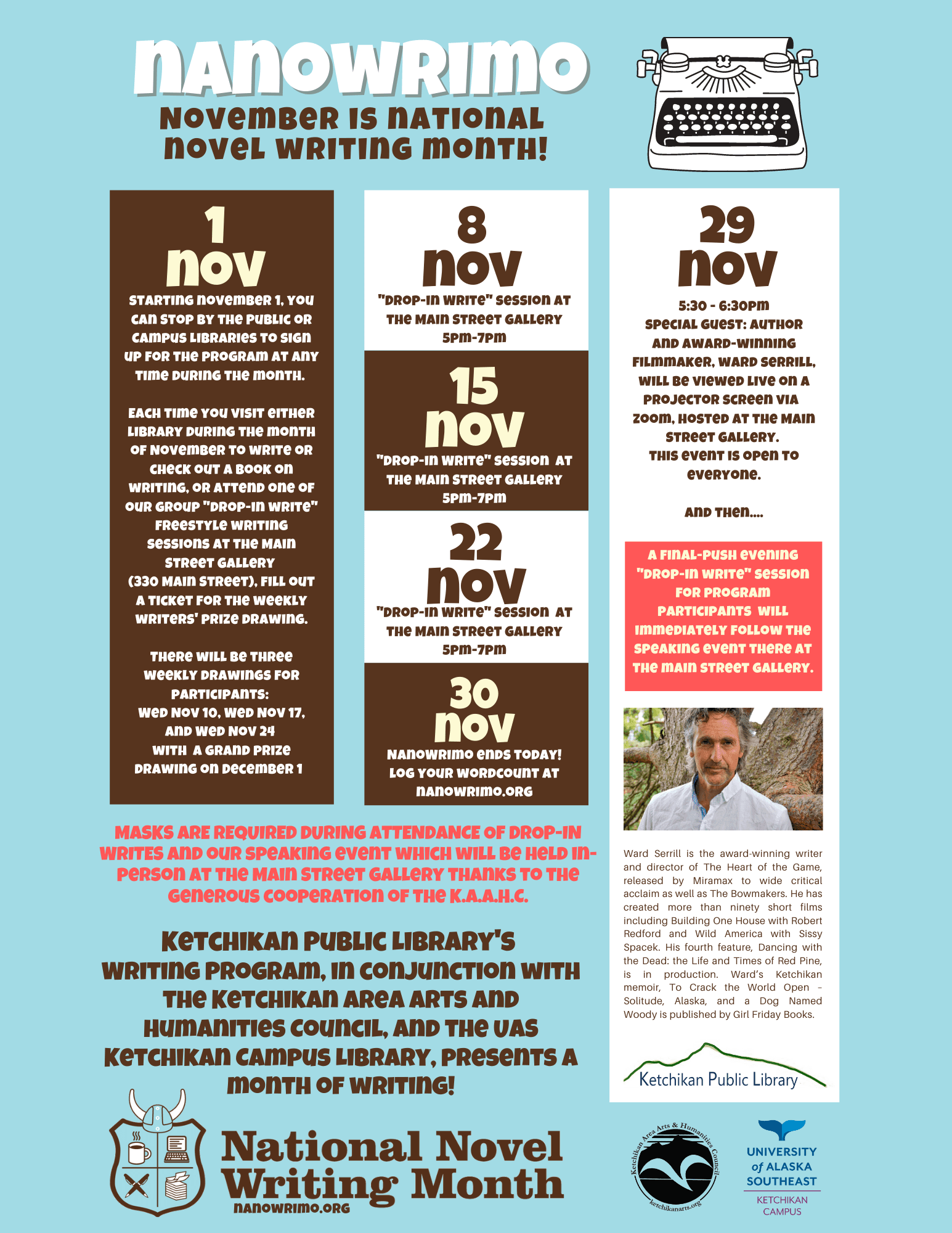 National Novel Writing Month kicks off on Monday, November 1st. This year, not only is the UAS Ketchikan Campus Library collaborating with the Public Library but also collaborating with the Ketchikan Area Arts and Humanities Council!!!! The program is open to teens and adults and is FREE. There will be prizes, (Thank you Friends of the Public Library for funding to cover NaNoWriMo prizes!) and an award-winning filmmaker as a guest speaker, and.... drumroll... IN-PERSON "DROP-IN WRITE" SESSIONS at the Main Street Gallery!
Starting Monday, stop in at the Public Library or the Campus Library at any time during normal business hours to sign up for the program. For the entire month, any day you stop in at either library to write or check out a book on writing, stop at the circ desk to fill out a ticket for the weekly and grand prize drawings.
Freestyle "drop-in write" sessions in-person will be held the last four Mondays of November (8th, 15th, 22nd, and 29th) at The Main Street Gallery, generally from 5 pm to 7 pm, with some wiggle room to write a bit later than that if people are enthusiastic. Tables, chairs, and power receptacles will be provided, and guest wi-fi access. If you bring drink or food, please make sure it is in covered containers, non-smelly, and of a nature that can be easily cleaned if spilled.
Finally, author and award-winning documentary filmmaker Ward Serrill will be giving a talk via ZOOM and taking questions on script-writing for documentaries on November 29th, at the Main Street Gallery. This will be open to anyone in the community, not just NaNoWriMo program participants.